Simple. Secure. Smart.
If you have staff members working or travelling on their own, this exposes your organisation to risk, and can create a heavy workload for your management team if you are trying to keep track of people with a manual buddy system.
Alertabuddy™ provides a robust, automated lone-worker alarm solution to reduce both your risk and your workload.
Our system can be used with any make or model of phone. Whether you have the same phones across your organisation, or each individual has a different type of phone, our system will work for all. Ancient phones? Also not a problem!
Our system is designed to be simple and easy-to-use for all. Whether users prefer to communicate by text or phone call, we can accommodate their preference with no additional hassle or cost to your organisation.
The simplicity of the alertabuddy™ system allows us to deliver it to you at incredible value, starting at just £1.99 per user per month.
Why choose us
The alertabuddy™ system is designed to give you many reasons to choose us...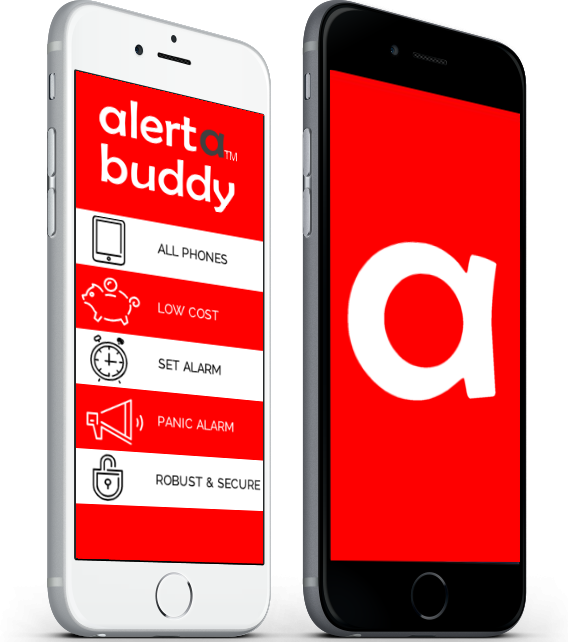 Users can easily set alarms for later, to ensure they are safe after an appointment or travel period.

Raise the alarm at the touch of a button by speed-dialling the dedicated panic number.

Our admin portal allows you to check on system usage.
Offering both text-in and call-in methods means that our system is inclusive and accessible for all staff members, including hearing-impaired or sight-impaired users.

Whether you want different emergency contacts during office hours versus out of hours, or want to set up emergency contacts on a rota basis, the alertabuddy™ system is uniquely flexible.

Our admin portal lets users and appointed administrators update details at the click of a button.
Pricing Packages
Prices shown are per user per month and exclude VAT
Unlimited
Best for regular users
No set-up costs
Includes unlimited check-in, check-outs
Includes unlimited triggered alarms
Fixed monthly costs
Pay As You Go
Best for occasional users
No set up costs
Check-in, check-outs charged at 20p per time
Triggered alarms charged at £1.50 per time
Variable monthly costs
Free trial - instant set-up